WARRIOR IN TRAINING PILATES ONLINE
EXPERIENCE PILATES SESSIONS.
FEEL AMAZING & FITTER.
£20 a month or £200 a year after a 7 day free trial. 
What is Pilates and why you need to do it?
Pilates is a series of slow, controlled movement that focus on strengthening the core muscle and moving out from there to strengthen the whole body. We not only incorporate strengthening, we also bring flexibility and mobility to the body. As Joseph Pilates once said
"If your spine is inflexibly stiff at 30, you are old. If it is completely flexible at 60, you are young". 
That is why we incorporate all 3 aspects into Pilates, when your body is mobile and able to support you, you can do all the things you want. 
Pilates brings awareness of the body, it allows you to align the spine and skeleton so it is in its optimal position, which means less pain, it allows you to strengthen all the muscles supporting the skeletal system and  stretch any that are causing imbalances. 
Not only will you get better posture and mobility, you will also tone the body, get closer to those flat abs, relieve back pain, de-stress, feel amazing, get stronger, be more confident, have fun, have stronger pelvic floor muscles, have better sex! 
AND you get to listen to my chat during sessions! 
I know how effective Pilates is for all my clients and I love seeing their confident and fitness increase. This is what I want for everyone. 
If you are ready to change your body so it is best able to support you and feel amazing as a result of exercising, then you are in the right place. 
For equipment recommendations for the sessions using equipment, please go to our Fitness Gear page. 
Warrior In Training Pilates Online
Warrior In Training Pilates Online is an excellent place to start your Pilates journey. This is a monthly membership where you have access to
» over 400 Pilates sessions,
» plus 2 new videos each week,
» sessions are mixed between using equipment (magic circle, small ball, weights, swiss ball, band), coffee tables, chairs, just a mat.
» 7 days FREE trial.
 » plus access to me to ask any question or get modifications,
» Pilates anytime, anywhere.
» 15% off Virtual classes and coaching sessions. 
» cancel any time.
There are no excuses to not start your fitness journey. 
This is perfect for you, if you:
» want to work out at home. 
» work irregular hours and can't commit to a class.
» want to supplement your current exercise schedule.
» have young children and can't get to a class. 
» feel self conscious and would rather work out alone. 
Don't just take my word for what you'll get, check out the reviews below. Both Annamarie and Gillian have been a part of Pilates Online since it launched in August 2019.  
Memberships are £20 for monthly subscription or £200 for annual subscriptions (save 2 months off the price).
 Payments are securely handled by Stripe. 
"Ceza is a fantastic Pilates Teacher. She is professional, informative, patient and driven. Her online classes are great, almost like she is in the room. Being a member of the online Pilates group means you have access to all Ceza's online classes. She posts new classes regularly and there is the ability to take previous sessions. Classes can be for all over fitness or designed to work on specific areas of the body. At the end of the class you feel rejuvenated, just as if you attended a class in person. Having access to the classes 24 hours a day, 365 days a year, wherever you are, is a great asset. She will answer any questions and give advice on the Pilates moves, which to do for a specific area. If you have had an injury, she will tell you which exercises to avoid. All in all, the Warrior in Training Pilates Online is fantastic to have in your health and wellbeing toolkit."
"The reason I love your classes is because you make us all feel very relaxed and comfortable. Whilst you work us hard it is in an extremely supportive way. 😀 No matter if it's a new or a simple, frequently done exercise you always make sure to detail all the points we should be thinking about to do it correctly. (But again in a relaxed, simple way... not strict or nagging 😉)."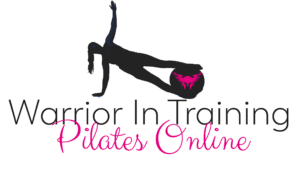 Pilates Online Membership
Monthly Option
Access to over 350 Pilates workouts

New sessions added weekly
Pilates Online Membership
Annual Option
Access to over 350 Pilates workouts

New sessions added weekly
Not sure about signing up to the Pilates Online Membership?
Why not try the FREE 7 Days to a Happier Body with Pilates Video Series. 
Sign up and get a 20-30 minute video everyday for 7 days.
Each video is focusing on a different part of the body, includes strengthening and flexibility exercises, with popular Pilates exercises.  
The video series is a great way to get to know Pilates and if it is right for you!